Meet Teri from @nocrumbsleft!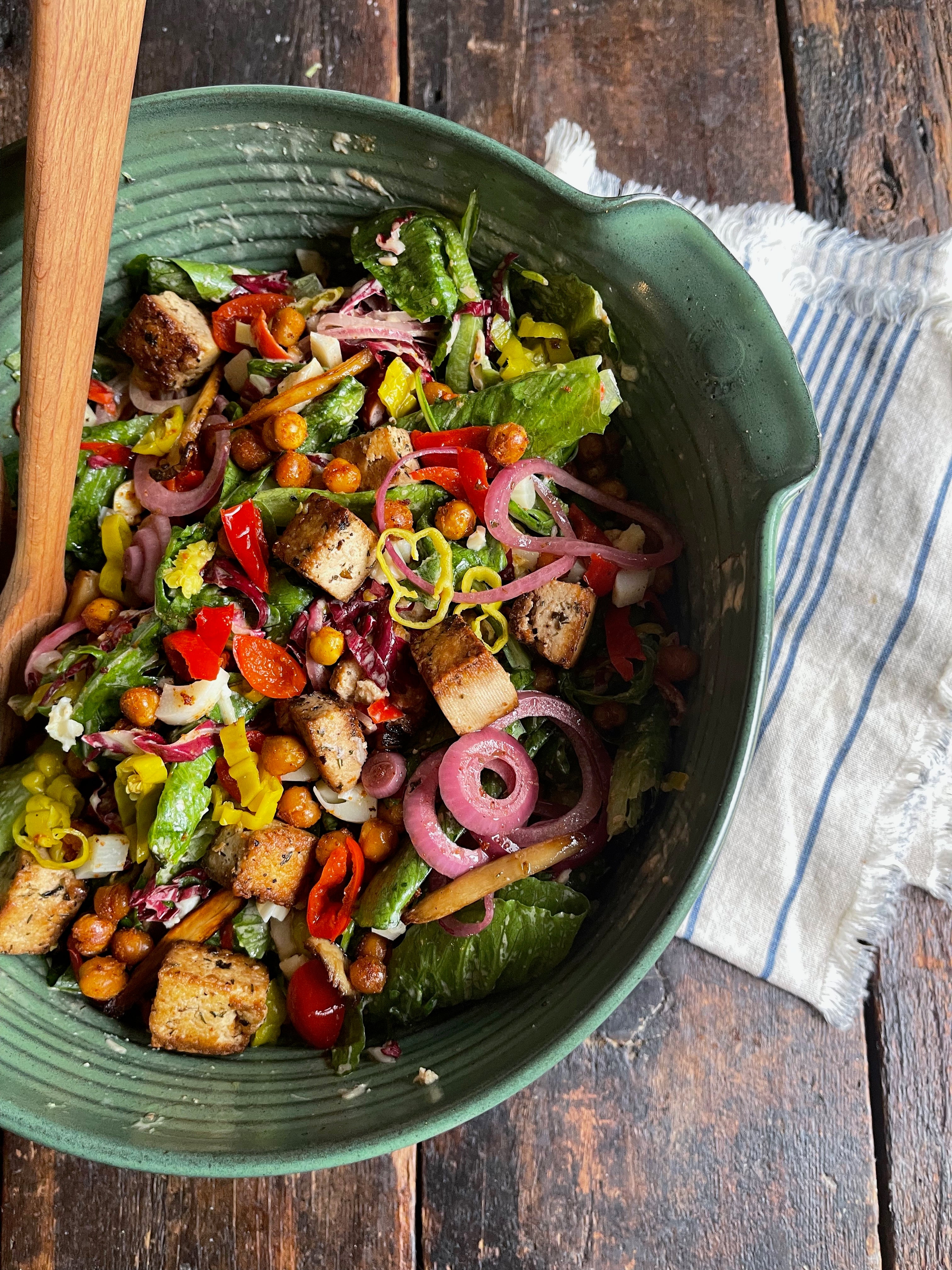 We recently got the chance to interview our friend Teri, who happens to make the most incredible recipes and sells amazing pottery bowls- which are probably one of the most used items in our kitchen! She is such an incredible resource and we hope you enjoy learning about her as much as we did! 
Tell us about yourself! What do you do + how did you get started doing what you are doing!

  
I'm Teri Turner, the founder of 
@nocrumbsleft
  I'm a mother, cookbook author, food blogger, podcaster and generally a gal who loves to eat and share delicious food. I create daily inspiration on Instagram about what to make next for dinner. I'm passionate about the celebration of real food. I do on Instagram what I've done all my life: celebrate good food, family, and life in general. I don't know what everyone else does when their kids grow up and move out, but I kept doing what I've always done, and it caught on in a big way! I started with 44 Instagram followers, posting my favorite dishes. I never intended to be a food blogger, but one after another, new people showed up, and I loved engaging with them. So many miracles happened along the way, and I just kept saying yes. Sharing my love for delicious food evolved quite naturally into something pretty amazing.

 
 What's your favorite part of what you do?

 
I love how creating delicious new dishes inspires people to get into the kitchen and cook real food. Cooking real food can be a wake-up call of love. It can truly change your life, and if I can be a part of spreading that, it's amazing! I also love the way sharing my life helps me connect with amazing lifestyle brands! 

As a 60-year-old curvy gal who is definitely not a size 2, it's fun to live a life that's unlimited.
What's the hardest part?

 
I could potentially work 24-hour days! There's simply so much happening with our Instagram, Facebook, Pinterest, 
TikTok
, 
podcast

,
  pottery line, and weekly newsletter, 
Friday Favorites

. 
So, balancing it all is the hardest thing for me. My kids' school called challenges an "emerging skill," which was a nice of saying it's something you're not really good at. Balance

 

is what I'm currently leaning into and committing to. It's my emerging skill.
How do you stay creative and inspired when needing to create all of the time?

 
I see inspiration everywhere, from farmers markets to restaurants to seeing what's on social. The good news for me is that people have to eat every day, so I have daily opportunities to inspire, and that in turn inspires me. Recently, I saw a post about salmon and rice. It inspired me to re-create salmon and rice in so many different ways: stir frying, cutting it into cubes, doing whole pieces. The process has been delicious, and I love where this little independent study is taking me.

 
 CJ is obsessed with your pottery and bowls, what made you decide to do the pottery? Which is your favorite piece you carry and why?

 
More than 20 years ago, I created recipe for a "magic elixir" called 
Marinated Red Onions.
 I've always had this condiment on my kitchen counter, and I needed a pottery bowl to keep it in. I knew just what I wanted but it didn't exist, so I met with a potter and designed it! I had a few extra bowls made to share, and that one piece developed into more three hundred different choices! Recently we've been paring back down to a streamlined collection, and we're about to release a series of limited-edition pieces beginning in June! We will include some of my all-time favorite pieces, like the Uncle Buddy Bowl and the

Everything Bowl

, in exceptionally stunning new glazes. It's like nocrumbsleft pottery got a mini makeover! We are beyond excited to share our beautiful bespoke pottery, but it's a bit of a well-kept secret, and the link will only go out to people on our list. 
What is your favorite meal or recipe that you make and why?

 
I'm a gal who loves salads as a lifestyle! It just makes me feel good and happy to make and eat them. Currently I'm crazy about my Perfect for Sunday Antipasto Salad. I've also created Whole30 and vegan iterations of that salad for when I feel like indulging a little less, so I can enjoy this deliciousness any time. But certainly I have to mention my Marinated Red Onions, Heroine Chicken, and my Summer Celebration Wedge Salad which are well loved far and wide. 
What's next? Is there anything fun that you are in the works on right now or any fun events coming up soon?

 
I'm excited to be spending September in Italy! It's a foodie dream come true. I'll be taking my spectacular community along virtually. It makes me happy to be creating lovely content everyday and having such wonderful folks show up. And I'm so excited about some of the things Carly Jean is going to be launching soon - I can't wait to see them!  
---