Transition to Fall with These 5 Must-Haves!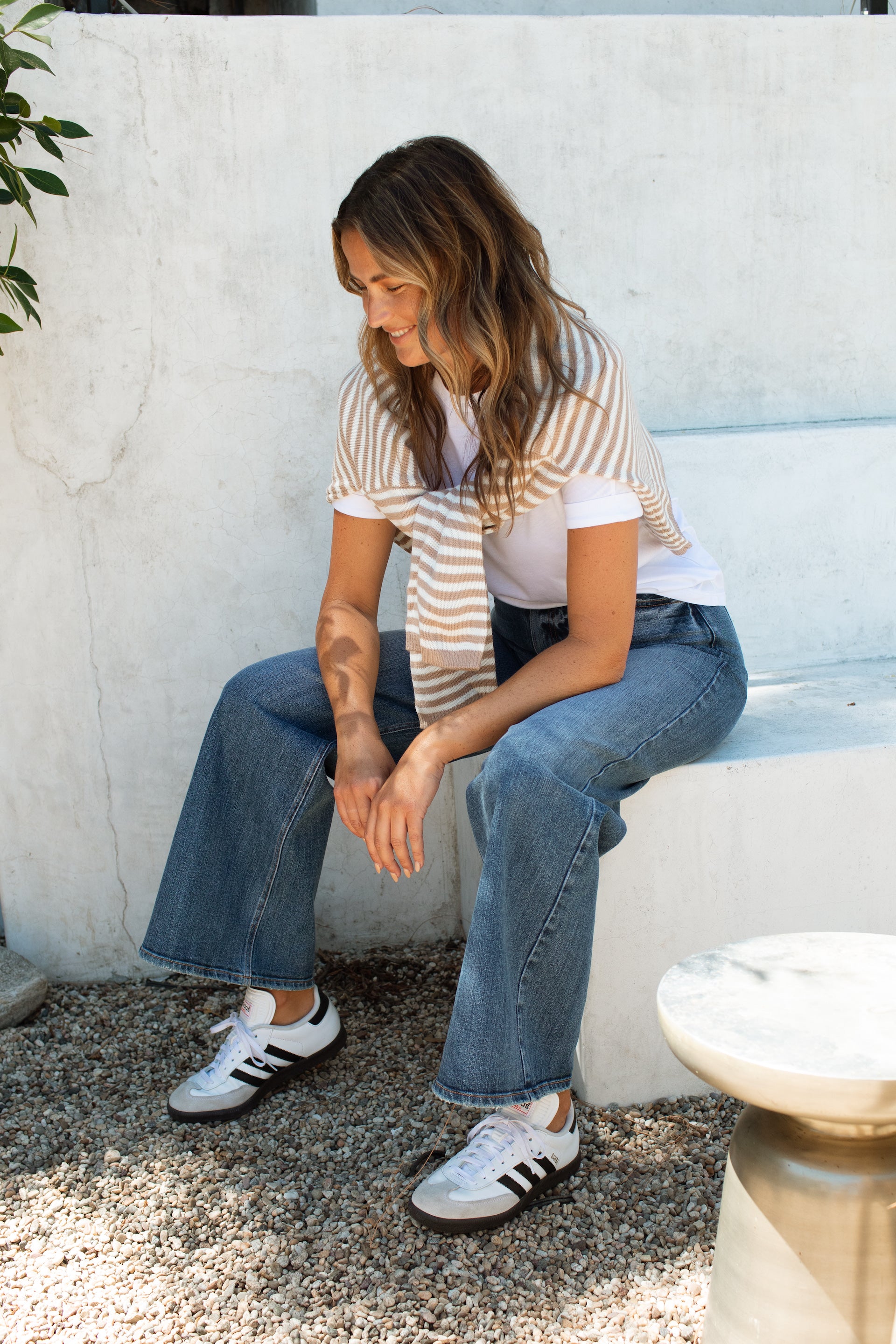 August is coming to a close, and the cooler weather is just around the corner! Fall is only a few weeks ahead, so now is the time to start thinking about our wardrobes for the future! And no, this does not mean that we should toss out our wardrobe and start from scratch. A timeless capsule wardrobe is designed to function and be fashionable all year round! However, we can always add some seasonal pieces to keep our wardrobes looking fresh! And the key to transitioning our wardrobes from summer to fall is with timeless and classic layers! So we wanted to give you our top five must-haves as we take a sneak peek into the fall season! If you already own some of these pieces and need some fall styling tips, or you're looking for an easy and quick way to refresh your closet, then these 5 pieces are for you! 
1. Tan Wesley Sweater
Two of the best looks for fall are stripes and sweaters. And the Wesley Sweater is perfect for that shift from summer to fall! This beautiful neutral sweater just restocked, and it is one of our favorite pieces for the changing seasons! The cotton knit fabric is perfect for a warmer layer when the colder weather hits. And the classic stripes are not only perfect for the fall, but all year long! 
2. Sea Salt Brooke Jeans
Who doesn't love white denim? We know we do! And the new Sea Salt Brooke Jeans are our new closet staple for fall! The slim straight look is a timeless and classic look, for the fall season and beyond! And besides it's seasonal appeal, a white pair of pants is a must for a timeless and cohesive wardrobe. 
3. Oat Carissa Dress
The Carissa Dress is one of the easiest and best ways to dress stress-free! The gauze/cotton fabric is lightweight and breezy, which is perfect for the change in weather. Also that oat neutral color? Perfect for the fall color palettes and mood boards. And the easy + roomy fit of the Carissa makes this dress all-season friendly! Plus, the Carissa is perfect for all seasons too! The neutral and timeless tones are perfect to build a wardrobe that will last for years to come. 
4. Medium Wash Hunter Jacket
We rave about the Hunter Jean Jacket all the time, but this piece is crucial for the fall season! A denim jacket is not only perfect for layering, but a stretchy denim jacket is comfortable to wear all day, everyday! And that medium wash color is simply stunning, and will never go out of style! 
5. CJ's Fave Classic Tee, Black + White
The key to a timeless and classic fall wardrobe is layers! And the best base layer is CJ's Favorite Classic Tee! Both the black and white colors are classic, and complement every layer you have! These are perfect for tossing under flannels, jackets, and sweaters!
Accessories
Rhodes Sandals: A fall closet cannot be complete without some good shoes! And the Rhodes Sandals are the perfect touch! With the braided texture, it adds the perfect neutral and fall vibe to your outfits! And they're perfect for when the weather is still cooling down. Toss on your favorite jeans and flannel, and your outfits are ready to go for years to come!
Malibu Tote: If you're living along the coast, or looking for a way to incorporate some more natural materials into your fall wardrobe, the Malibu Tote is the perfect woven bag for all your wardrobe needs! The natural jute material adds the perfect rustic color to your outfit, while also incorporating some beachy tones for warmer weather! 
Overall, the purpose of having a capsule wardrobe is not to constantly be changing out our core pieces, but to have a timeless and functional wardrobe, with hints of refreshing and new pieces to keep our wardrobes interesting! These 5 pieces are how we would take our summer wardrobe and make it cold-weather-friendly, but the beauty of a capsule wardrobe is to make it work for you! 
Hopefully these neutral tones + textures inspire you to get cozy and comfortable this year! And if you love what you see, there is more! Carly and Jenna did a livestream earlier this week, showcasing these 5 pieces (+ more!) of what they would wear as the fall season begins. You can watch + shop their livestream with our new program, CJLA TV!
---