Hosting Tips & Tricks: Galentines Party Edition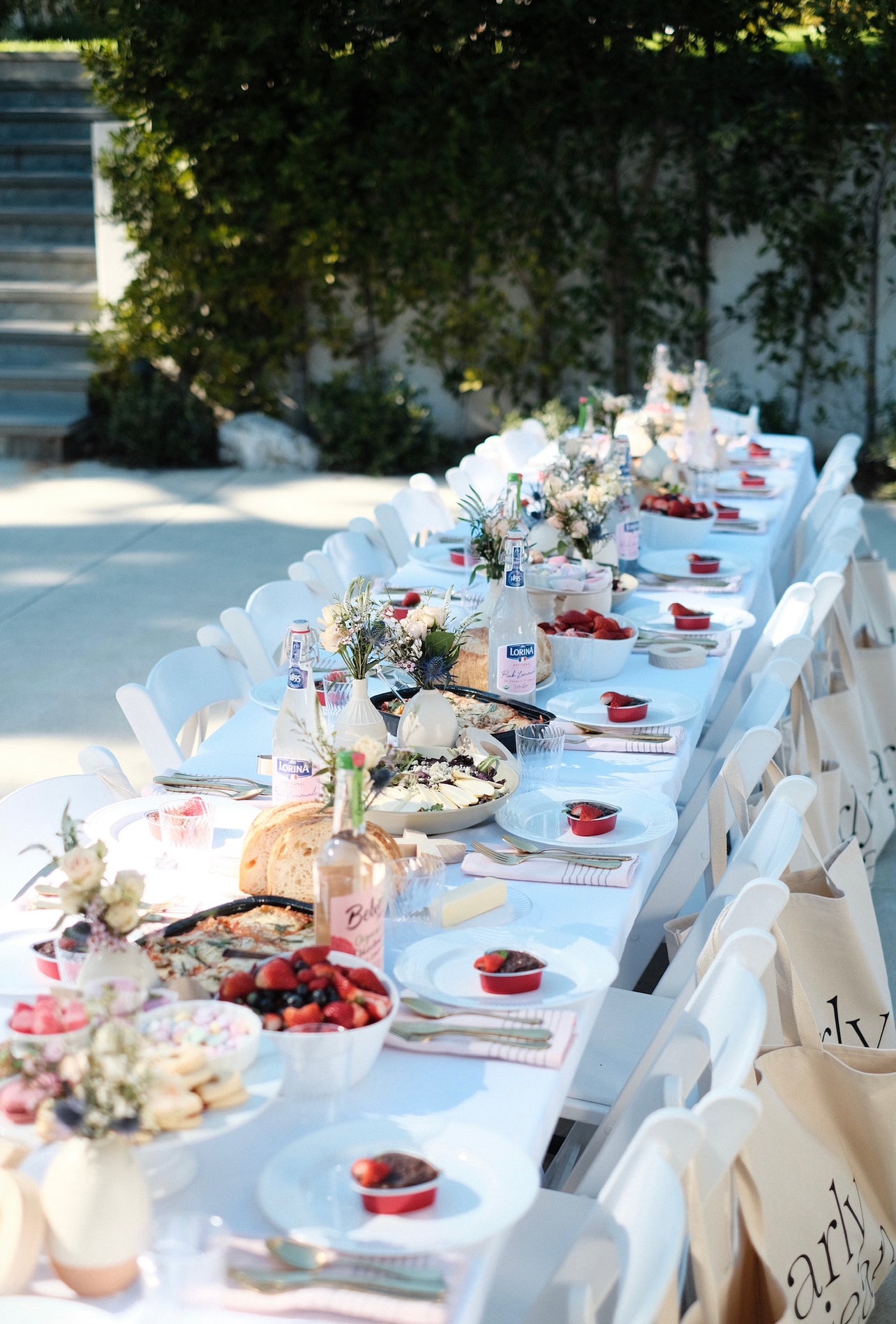 'Tis the season for those heart-shaped candies, bouquets of roses, and that cliché box of chocolates from the grocery store. But besides the typical Hallmark-styled dinner date nights and musicals, Valentine's Day is a really sweet time to get together with your loved ones and cherish our joyous and sentimental moments.
Here at CJLA, Valentine's Day holds a special place in our hearts. On Monday, we hosted our annual Valentine's Day lunch where we enjoyed spending time with each other and to express our gratitude for each one of our team members.
Galentine's is a cute and charming way to celebrate February 14th with all your girl friends! We wanted to share with you what we did for our gathering, and maybe some of these ideas will help spark some creative ways for your to make hosting super affordable and fun! 
Whether you're single, or married, or anywhere in between, you'll want to save these ideas to make your Galentine's Party easy and fun!
Carly's Foolproof Method for Hosting
If you've read any of our other hosting blog posts, then you will recognize this tip! Carly holds to this super simple yet profound rule whenever she hosts, that she calls "appealing to the senses." The best way to host is to create a pleasant and inviting environment for the human senses: sight, taste, sound, and smell. For our lunch on Monday, Carly made sure that yummy food was being served. The table was set with fresh flowers and vases, to create a beautiful smell and a fresh look to the table. In other rooms of the house, Carly lit some warm candles for a romantic feel and a softer atmosphere. There was upbeat and happy music playing in the background while we ate lunch, and Carly made sure each team member received a cute party favor at the end! Here are more of the details of how our Valentine's lunch went:
The Food We Ate 

  
Carly decided to have a family-styled lunch, so we all served ourselves lasagna and salad, with gluten-free options to the side for people who wanted that option. The table was also filled with little candies, desserts, and bowls of fruit that we could graze on in between our entree and our dessert. For dessert, Carly had these heart-shaped brownies with a strawberry on top. It was super cute and so delish!
The Dishes We Used

   
Because Carly didn't want to do a million and one dishes, she decided to use these super cute plastic plates and cups, but Carly did use regular silverware to make the lunch feel more classy. 
The Music We Played
Carly had a speaker set up outside where we were eating, and there was always an upbeat and happy song playing in the background. It was a really easy and affordable way to add life to the atmosphere.
The Decor We Placed

  
To keep things fresh and themed for Valentines Day, Carly decorated the house + table with vases of fresh roses and flowers, and added these darling X's and O's around for a cute and classy feel. Inside the house, Carly dotted around some mason jars with white candles inside to add some warmth. 
The Party Favors at the End
Carly gave some unique and charming party favors to take home with us! She gave us a tote bag with some of her faves inside ( snacks, lotions, candies, books, etc). It was a really sweet gift for each of us, but if you don't have enough time to plan, or your budget is not big enough to give everyone a big gift, then this next tip is just for you!
Besides the tote bag, Carly also let each one of us take home a small vase with flowers inside! They had been used as the decorations on the table, and they also became our party favors. This is a super useful tip because it is an easy way to 'get rid' of your decor without throwing it away! Plus, you wouldn't have to spend extra on party favors.
These ideas are here as a resource for you as you begin prepping and planning for this upcoming Galentine's Day! We hope that some of these ideas helped spark some creativity for you. And remember: don't overthink or stress yourself out! Hosting is supposed to be fun, and we are here to help you make the prep-work easier and affordable, so that you can feel like a guest at your own event. 
You can get a chance to win one of these same exact tote bags! Head over to our most recent

Instagram Post

, like & comment on it to enter! We will be doing giveaways on our main Instagram all week in honor of Palentine's Week so make sure to stay tuned! 
---