How To: DIY Halloween Costumes with CJLA Pieces!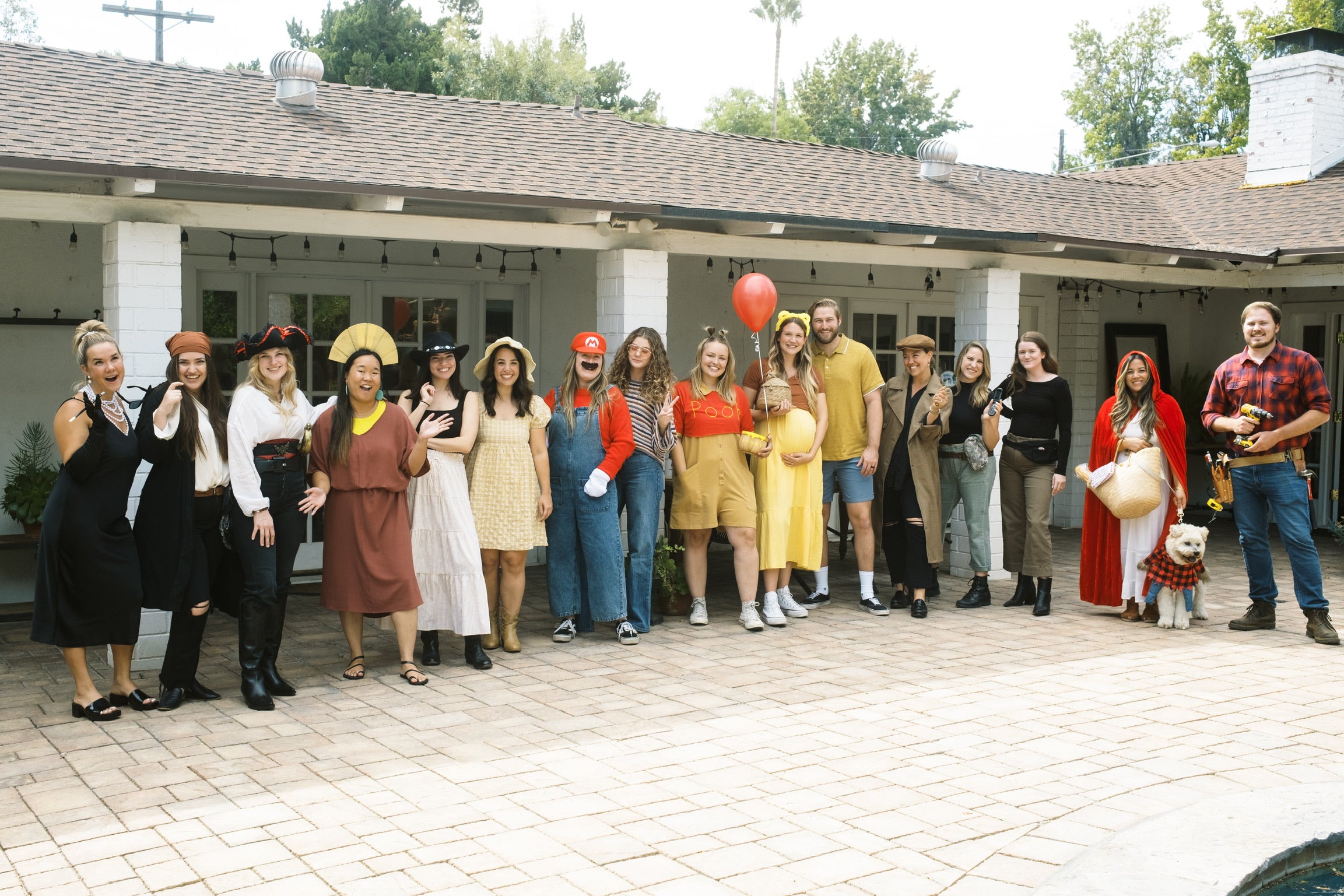 Halloween is just around the corner, and we know that choosing the perfect costume is exciting, but also can be challenging. With so many pop up costume stores in the fall, as well as tons of different costume ideas, finding a costume can be tough, and we totally get it. Plus, a lot of us have busy schedules, which means finding a costume, or even making a costume from craft-store supplies, takes up too much time in our day to be worthwhile. But why spend a fortune on a one-time outfit or scramble for patchy homemade outfits?
If you're looking for a budget-friendly, sustainable, and creative approach to costumes this season, you're in the right place. Every year here at HQ, we hold a costume competition, using CJLA pieces (aka our everyday wardrobe) in creative ways to create iconic looks! And in this blog post, we've got you covered with tips, tricks, and inspiration to transform your everyday wardrobe into fantastic, affordable, and fun Halloween costumes that you can wear again and again!
The Benefits of Wardrobe Costumes
Before we dive into the DIY costume ideas, let's take a moment to appreciate the benefits of using your regular clothing for dressing up. First of all, it's affordable! You won't need to go on a spending spree for an entirely new costume that you'll only wear once. Plus, by wearing your everyday clothes, you'll maximize your wardrobe and get more use out of clothes you already own! Comfort is another key advantage. Unlike store-bought costumes that can be itchy, not fitting correctly, or uncomfortable, using your own clothes ensures a cozy and familiar fit. So here is what we wore to our costume party, and hopefully these costumes give you some inspiration for clever ideas you can craft from your closet!
Detective
Starting off with our founder's costume, Carly decided to go with an iconic look as a detective! She used a simple black outfit underneath with the Kate Jeans, the vintage Ari Top, and the darling Downing Coat! Toss on these pieces with your favorite vintage hat, and you're ready to sleuth around for those unsolved mysteries this season! 
Audrey Hepburn
Loving a more classic look? Try out Kirsten's costume, where she dressed as Audrey Hepburn! Wearing a flattering black dress, this look is sooo classy and super easy to complete! Wear those iconic black gloves, and top off with some pearl necklaces and a high bun, and you're good to go!
Winnie the Pooh
 We had two Winnie the Poohs this year! Janae and Ali both came as Winnie the Pooh, and Janae's husband complemented her outfit by being Christopher Robin! Wether you wear an easy yellow jumpsuit or the yellow
Carissa Dress
with the
Fave V-Neck Tee
, being this darling poohbear is the 
sweetest 
thing for this season!
Emperor Cuzco
Connie came dressed as the iconic emperor-llama cartoon character, Emperor Cuzco! She used a vintage CJLA dress, while wearing the Scoop Neck Tank in Tea Leaf underneath! Don't be afraid to test out these bold yet fun colors to create that perfect "Boom, baby!" look!
Little Red Riding Hood
As timeless and sweet as a fairytale, Jess came as Little Red Riding Hood (with her cute four-legged friend as her big bad Wolf!) Wearing a simple white dress, paired with a red cloak, this look was super easy to create! And if you have a red cloak, or even a red blanket, this darling look could be yours!
Pirate
Ahoy, mateys! Both Ashley and Alissa showed up as some friendly pirates! Alissa is wearing an easy linen button-down with some black jeans, and that recognizable pirates hat! Ashley (or Jackie Sparrow, as Carly calls her) came with her Kate Jeans, Celine Button-Down, and an easy black trench coat for more of a Jack Sparrow look! Plus, she got even more creative with the redwood Fave Tank as her bandana!
Cowgirl
 Kelsey came as our darling cowgirl, wearing a simple Rachel Tank with a gingham skirt! Pair it with your favorite boots and hat, and you'll be ready to have your home on the range this season!
Hippie
Maybe you want a blast from the past for Halloween this year! Grace came as a hippie gal, wearing the Braelyn Sweater (which is restocking soon!) and those iconic wide-leg denim, the Holland Jeans! Paired with those fun rose-tinted lenses to really complete this retro look.
Scarecrow
Rachel came as a Scarecrow, with a cute babydoll dress and a darling straw hat! Complete with a little extra face paint, this look is one of the cutest and easiest ways to truly embrace the fall season!
Kim Possible
Both Haidyn and Briana came as Kim Possible this year! Channel that inner high-school vigilante look with some olive pants, a black top like the Harper Long Sleeve, and your favorite combat boots and belt, and you're ready to save the world, and your costume spirit!
Mario
Dakota came as Mario this year! Jump into this fun costume with your favorite red sweater, and some overalls like the Mandi Overalls! And, if you really want to complete the look, you could always grab that iconic Mario hat and mustache! Wahoo!
Al from Home Improvement
If the man in your life needs a lovable and iconic costume, then Al Borland from "Home Improvement" might be the way to go! Brandon came dressed in a classic 1906 Charleston Flannel, as well as some hardy work boots and jeans. But the look isn't complete until you're kitted out with any took you can think of! 
Hopefully, these costume ideas were able to give you some inspiration for your Halloween dress ideas this year! And best of all, they use clothes that you already own! You don't have to sacrifice your seasonal events to itchy or oversized costumes that you'll only ever wear once. But if you are need of some new costume pieces, or some simple wardrobe upgrades, check out our new arrivals for some seasonal staples and cozy layers! Happy shopping, CJLA!
---