Basics 101 - The Essential Tops You Need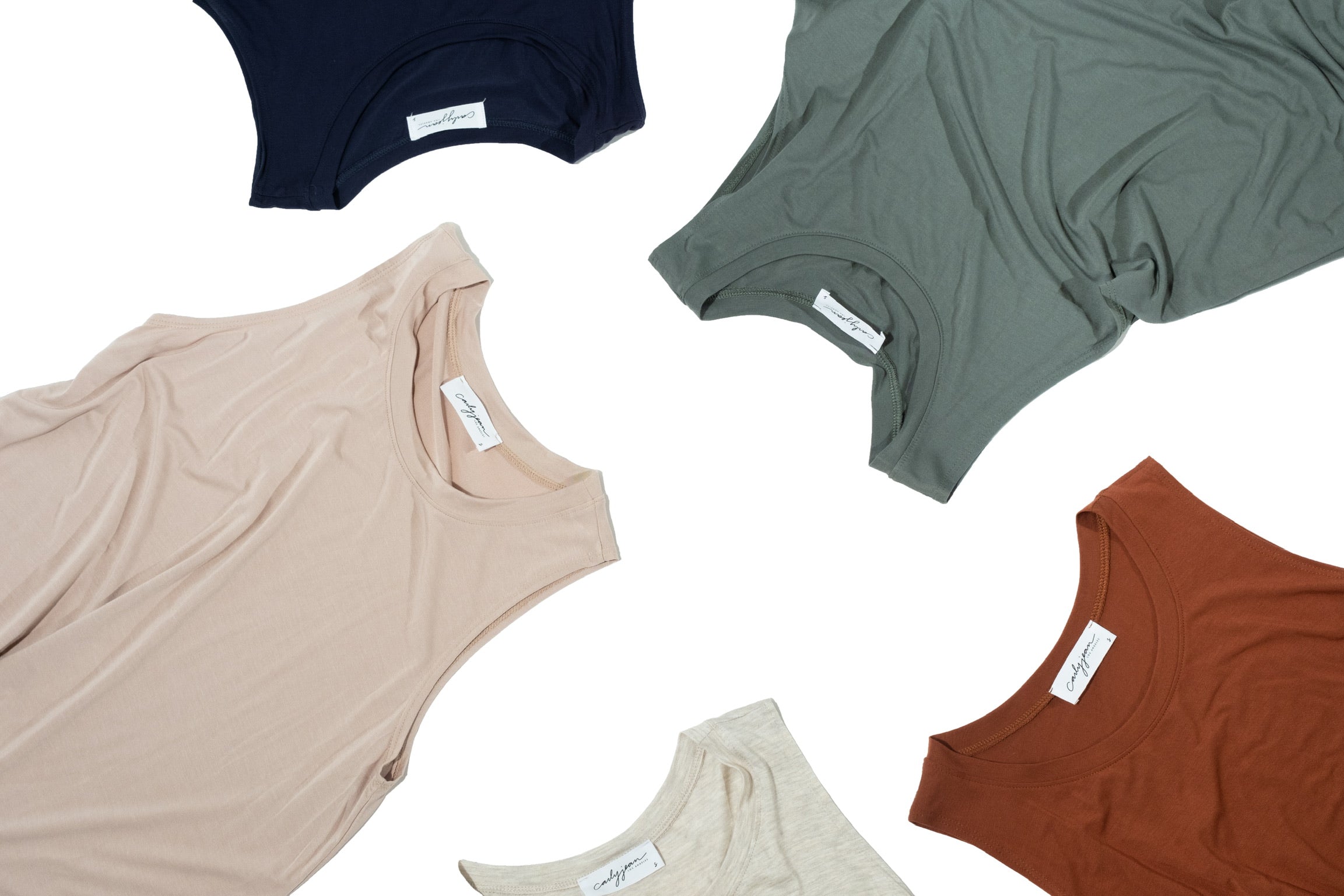 Let's face it: We all have tons of clothes in our closets... Pieces of clothing that we once thought were "essential" to our wardrobe, now sit on the rack collecting dust! It feels like the more we have, the less we wear. Trust us, we've all been there! + For weeks, maybe even years, you've been fed up with your disorganized and cluttered wardrobe! You spend all day on a Saturday cleaning and reorganizing and getting rid of all the pieces you don't wear anymore! 
(If you're needing some organizational tips for your closet, make sure to check out our recent blog post on 5 Steps to Refreshing Your Closet)
 Finally, all your clothes fit in your drawers and on the rack, but it still feels incomplete and disconnected. You did the hard part by conquering the cluttered beast, but where do you go from there?
Let us take you back to the Basics with our basic tees, tanks, and long sleeves that every closet NEEDS for a simplified, yet maximized wardrobe! 

Note: ALL Basics are USA MADE & available in sizes XS-3X! 
1. Meet the Favorite Tank
 From summer to fall, from shorts to jeans, you will wear this tank all year round! Sometimes you just want a scoop neck tank top that you can tuck into a pair of denim and not feel restricted in! This one calls all nursing mammas because of the thin straps and ability to easily slip it off the shoulders, you will want to purchase this in every color we have! Also, if you're a new mamma looking for maternity or nursing friendly options, we have a Maternity & Postpartum Capsule already built for you! 
2. Meet the Ribbed Long Sleeve
She is your classic go-to LAYERING piece, that can be worn on its own or under a jacket or vest! With the thick ribbed material and flattering scoop neckline, it's a great piece to wear with The Malibu Jeans and cute boots on it own, OR it makes a great layering piece under the Hunter Jacket or Shay Vest! 
3. Meet the Scoop Neck Tank
If you're looking for that tank that could easily transition from street wear to your next workout, look no further! The Scoop Neck Tank is your new best friend with its high neck and billowy body, you will feel SO good when putting this one on and you won't have to worry about the neckline being too low! Pair this with the Topanga Jeans and some sneakers for a casual fit or throw the Manhattan Blazer over it for an office look! The Scoop Neck Tank really does it all! 
4. Meet the Scoop Neck Tee
The ONLY top you'll ever need! This goes back to the very core of why we started making CJLA Basics! With the classic scoop neckline + scoop hem, you can rest assured this will be in your wardrobe for YEARS to come! With its true to size fit, every gal needs this one in her closet to have on hand for whatever the day throws at you! Pair it with the Chrissy Jeans and a jacket for a quick fit when you're short on time that makes you look SO put together! 
5. Meet the V-Neck Tee
When I think of timeless fashion, I think of her. A classic white v-neck tee. Simple, but significant, this will become the bones to your capsule wardrobe. It also comes in 11 other colors so feel free to grab a couple and add variety into your closet! Pair this with the Kate Jeans or tucked into the Sara Skirt 
5. Meet the Boyfriend Tee
She is your cool, on the go, street style tee that you can throw on with ANY pair of denim and will feel like a million bucks! With that fun side seam that adds extra room in the body, you can tuck it, tie it, or leave it loose! If you own the Jaymee or Malibu Jeans, this tee was MADE for them! 
7. Meet the Rachel Tank
If a tank top could TALK she would say, wear me EVERY DAY ALL DAY. The Rachel Tank takes quality to the next LEVEL. With that double lining, you will have no wardrobe malfunction's and feel so good in your own skin! It comes in beautiful earthy colors that easily layer with any denim jacket! 
8. Meet the Eden Tank
The Eden Tank is like a sister to the Rachel Tank. They are the same material, same double lining, but the Eden Tank offers a different neckline for gals who like more coverage! It also offers a tad more length for my long torso gals! Again, it's a must have when building out the foundation to your closet. I'm pretty sure everyone at CJLA Headquarters owns at least 2-3 Rachel and Eden Tanks! 
9. Meet the Ribbed V-Neck Tank
She is your best friend, especially during the summer! With a fun v-neck not only in the front but the back as well and a loose body, you will always feel good in this tank, even on the bad days! The ribbed material makes it thick enough that you won't have to worry about what to wear underneath it!                                             
Right now, ALL basic tops, tanks, tees, long sleeves, & kimonos are $23 with NO CODE NEEDED! Head to the site now and get ready to finish off your capsule closet! 
---