How to Build a Forever Wardrobe!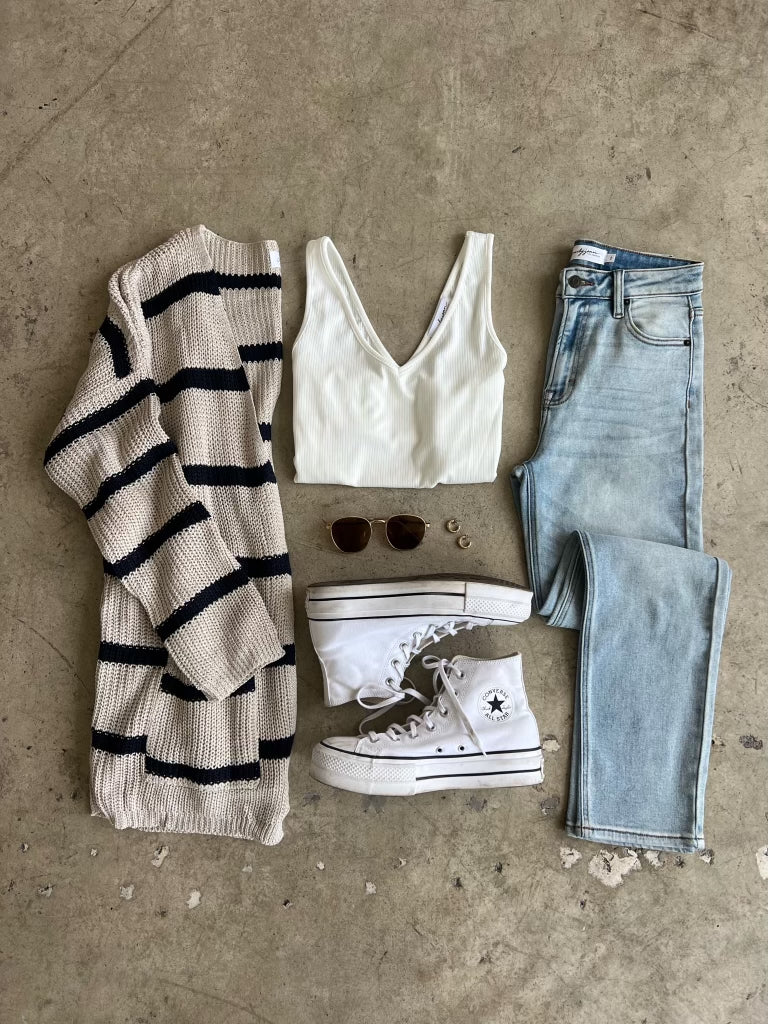 The reality is, seasons are always changing. In good times or bad, life is constantly flowing. And on top of that, it can feel like fashion is changing even faster. New looks, new trends, and new styles are constantly coming and going. Because of this, buying new clothes all the time can feel overwhelming and discouraging. 
But your wardrobe doesn't have to be that way! You can build a closet that outlasts the constant ebb and flow of change. By following these simple steps below, you can finally have that perfect and forever capsule wardrobe you've been waiting for. 
You're probably wondering, what is a capsule wardrobe? A capsule wardrobe is a collection of small and timeless pieces that you can mix and match with to create tons of outfits! It's these capsules that will be the foundation of your forever wardrobe, so let's break down what goes into a good capsule:

1. Core Basics
The first, and most important, step in building your perfect wardrobe is through good Basics. Basics are the core tops that you will wear on a daily basis! Tees, long sleeves, and tanks, are all essential basic pieces of clothing that your closet needs. But we want these basics to last, which is why we designed our Basics Collection here at CJLA! Made in the US, grown with the finest cotton, these pieces are durable and incredibly comfy! You can click here to view our simple yet versatile Basics Collection!
2. Core Denim
Secondly, your closet is going to need good denim for a timeless wardrobe! High quality denim is going to be durable and also comfortable, fit for everyday wear. Our denim here at CJLA is perfect for your wardrobe needs! From yoga-worthy stretchy, to the classic harder denim fit, your wardrobe can have the variety and the comfort all in one closet! If you're curious about our denim, you can click here to see more!
3. Seasonal Layers
Once you've established your core tops and bottoms, it's time to add some fun layers into the mix! This is how you can keep the same core pieces throughout every season! Toss on a light button-down for a summer evening look, or slip into that thick cardigan for a cold morning. Stylize your core pieces too with relaxed knits, or tailored blazers, the possibilities are endless! From pastel sweaters, to dark-toned flannels, and everything in between, you can give your wardrobe it's own beautiful personality with layering pieces! Your seasonal layers should also be durable and versatile, perfect for wearing for year to come. 
4. Accessorize!
Your wardrobe is not limited to just your clothing! Shoes, bags, and jewelry can also add lots of fun textures and styles into your closet! If you're a gal who loves a bold pop, grab those chunky gold earrings! Or if you prefer a more natural look, a cute basket-woven purse for daily use is perfect too. Your accessories are the perfect way to tie in your wardrobe with your home decor too.
Simple yet versatile clothing is the key to a forever wardrobe! Shop our Basics Collection today to build the foundation to your forever wardrobe.
---