8 Ways to Get Your Closet Ready for Summer (& feel AMAZING!)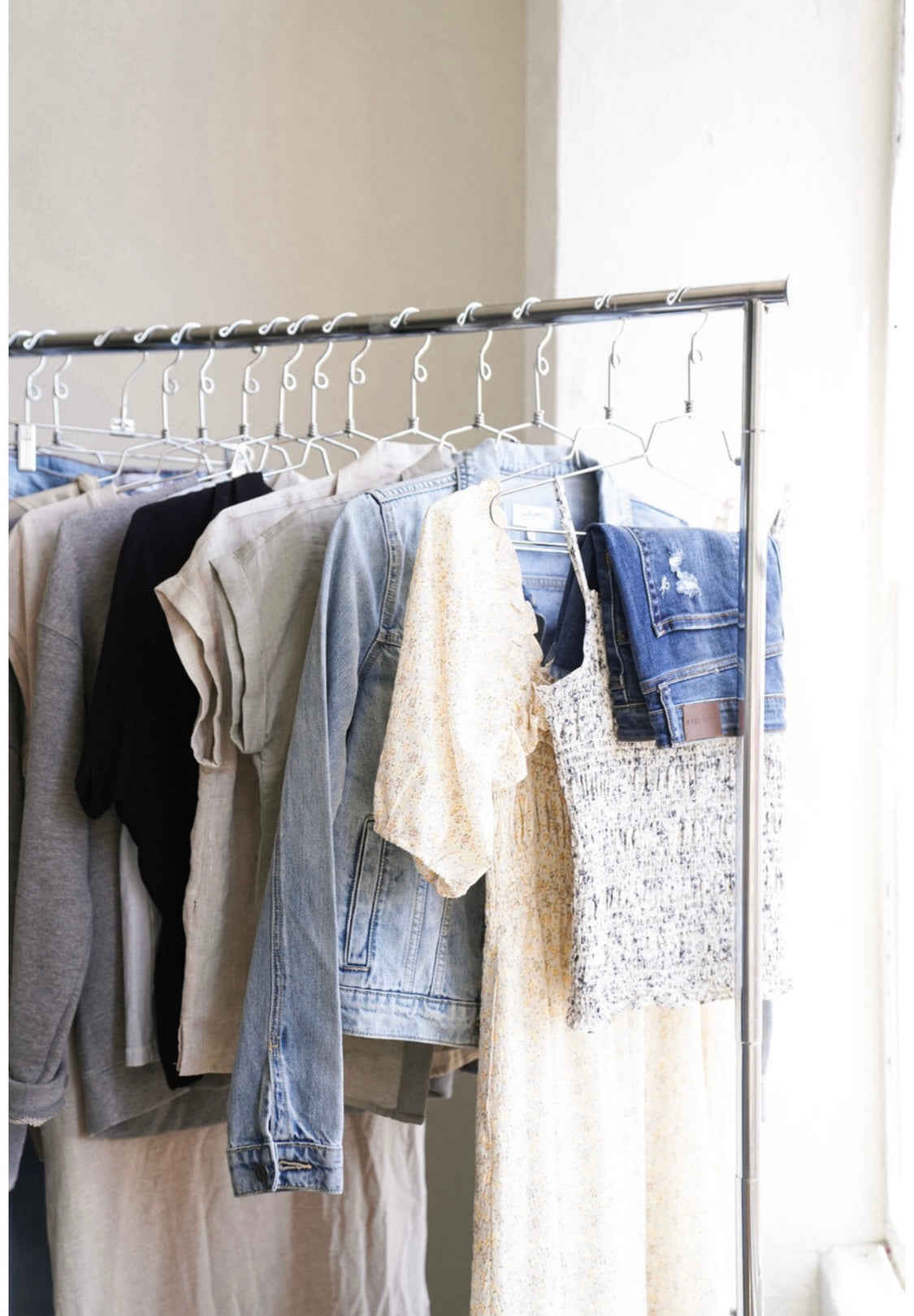 With each new season comes a chance to refresh your closet and take inventory of what items are needed and which ones can be donated or stored for later! Here are eight ways to get your closet ready for the warm summer sun and all of the adventures that this season might bring! While you go through your closet, make sure you are mindful of whether pieces make you feel good when you put them on--you should always feel incredible in your clothes! Just because more skin is typically shown in the summer, doesn't mean you shouldn't feel just as confident and amazing in your own skin as you would in the colder months! With CJLA, you can feel prepared for the summer while feeling confident that everything in your closet makes you feel as beautiful as you already are. 
1. Solid Pair of Denim Shorts
The number one item that is essential for the summer months is a pair of shorts that you can wear on repeat and feel amazing in! Our
Revy shorts
are hard to beat because they are made with our signature CJLA stretch that looks like hard denim, has light distressing, and the most flattering cut and length! These are definitely a @cjlagirls favorite for a good reason and trust us-- anyone can pull off the shorts and feel confident in them! 
2. A Few Tanks
Whether you like to layer or wear alone, tanks are a must for the summer! We recommend having at least a few options so that you can rotate! Our favorites are the double-lined
Rachel
+
Eden
Tanks (restocking this summer in multiple colors!!), the
Essential Ribbed Tanks
, and the Playa Tanks if you prefer more of a flowy fit! Pair with the Revy shorts, your favorite pair of
CJLA denim
, or even a skirt like the
Cassie
for a dressier look! Stay cool while working out, hanging with your friends or family, or traveling this summer! 
So grab a color or two and show off those arms that accomplish so much everyday! 
3. A Staple Summer Dress
Dresses are the best for the summer because they are lightweight and flowy to keep you cool on those warmer days! On top of that, they make getting dressed so easy because it's one and done! From summer weddings, to
farmer's market trips
, to making salad at home, dresses have you covered for all of it! The
Mari
and
Summerland 
dresses are a great place to start because of their flattering cut that is so easy to style and wear during your many seasons of life! Feel amazing in the body that you are in! 
4. A Pair of Sandals
Another summer essential is a pair of neutral sandals that can be dressed up or down! The Rhodes Sandals will be restocking this summer and trust us, you are not going to want to miss them! They go with EVERYTHING and are so comfortable to wear all day long! Other great options are the
Bali
and
Cabana
sandals! 
5. Swimsuit
It's officially swim season, and although it can be intimidating, we are here to encourage you that it doesn't have to be! First of all, your body accomplishes so much everyday whether that is taking care of your kids, getting housework done, going to the office or classroom, etc, so that is something to feel confident about! Secondly, our swimsuits are specifically made with you in mind! They are flattering on all body types, super comfortable and have great coverage! This summer is a time to enjoy yourself, your friends and family and not waste time worrying about what you look like! CJLA will help you feel amazing so that you can just enjoy this summer and have some fun! 
6. Pop of Color
This summer we are allll about the color! Check out the Playa Tanks that just hit the site! Also, be sure to keep your eyes out for the NEW basics coming to CJLA! Trust us when we tell you that these are something you will not want to miss! The Playa tanks specifically have great coverage with the wide racerback cut and high neckline! 
7. A Bag like the Provence Basket
This summer you are going to want a
bag or basket
that is large enough to carry all of your essentials from beach items to farmers market goodies to items that you want with you on the plane to your next travel destination-- and feel stylish while doing it all! 
8. Hat
Hats are a great way to accessorize your outfit but also to keep cool and shaded!
Our hats
have UV protection from the sun and come in a variety of styles and colors! Bring with you to the pool or beach, or style it with a dress to a wedding this summer! The bonus is that hats are great for those days where you don't feel like messing with your hair! 
---