Instant Pot BBQ Chicken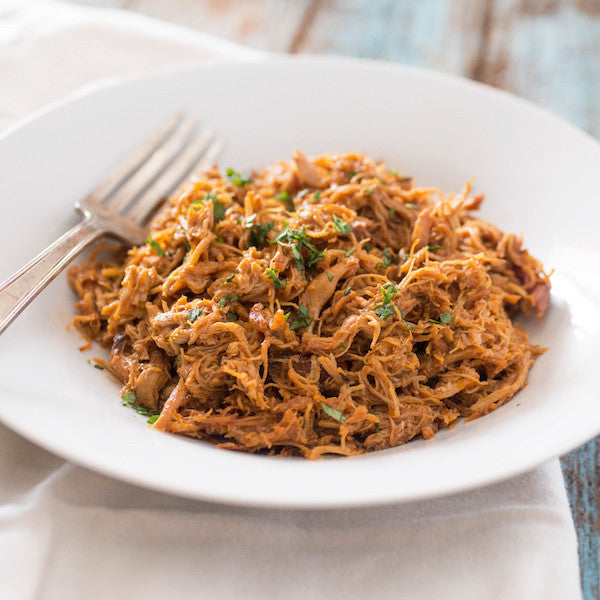 Another simple meal idea for your weekend is here! If you follow me on Instagram (@carlyjeanbrannon) you know that I can't get enough of my
Instant Pot
, an incredible pressure cooker that I use ALL the time! One of my favorite quick, easy meals is BBQ Chicken. You can toss the chicken breasts in while they're still frozen and have a completely cooked meal in less than a half hour. Roast some chopped veggies or throw together a mixed greens salad with this yummy vinaigrette from
Against All Grain
listed below and dinner is ready!
---
6-8 Chicken breasts (fresh or frozen) 1/2 C BBQ Sauce 1/2 C chicken broth or water
Place the chicken breasts in the bottom of the instant pot. In a small bowl, combine the BBQ sauce and liquid. Mix and pour over the chicken. Put the lid on, making sure the pressure valve is sealed. Set to poultry for 22 minutes. When the timer goes off, use the quick release method to remove the lid. Shred the chicken with two forks and serve!
Balsamic Vinaigrette Dressing
(Against All Grain)
1½ tablespoons fresh lemon juice 2 teaspoons balsamic vinegar 1 teaspoon Dijon mustard ¼ teaspoon sea salt pinch of cracked black pepper 4 tablespoons extra-virgin olive oil
Combine the lemon juice, balsamic vinegar, dijon mustard, sea salt, and black pepper. Whisk together. Slowly add in the olive oil, continuing to whisk the mixture. Stores in fridge for 5 days sealed in a jar. 
---
 Fill up your plate with vegetable goodness and this deliciously tender chicken and enjoy!
[ Photo Credit: Tastyeverafter.com ]
-CJ
---