How to Find Your Perfect Jean Size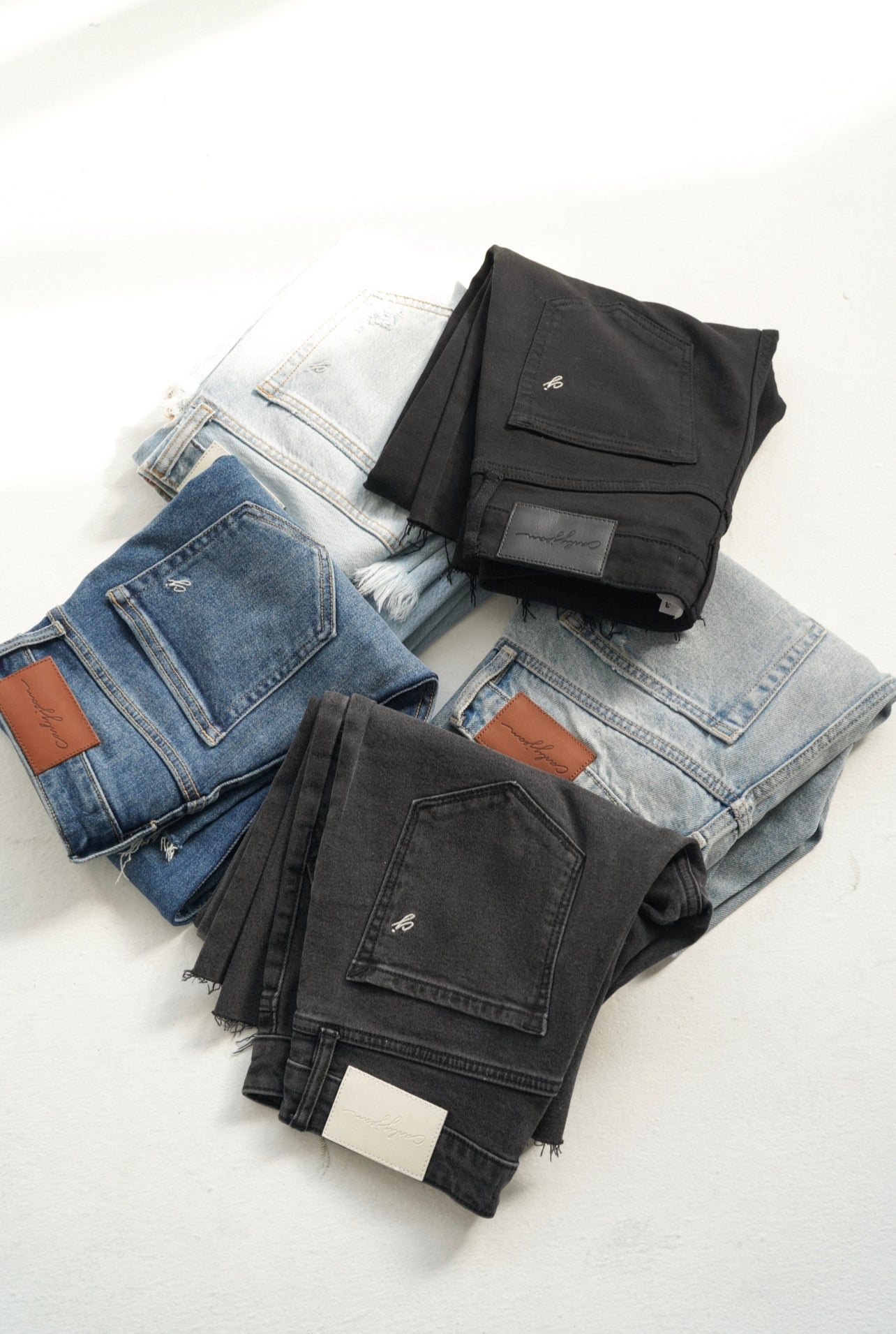 For decades, denim has been an essential piece to every wardrobe because of their durability and ability to pair well with any top. 
Stylish denim is definitely a must, but fit is just as important as the look! Having denim that doesn't fit right is uncomfortable and really frustrating. Shopping for denim online doesn't help! It can be a real struggle, especially if you're not sure on your size. Shopping at the mall is often times NO BETTER. Piles of jeans on the dressing room floor and the feeling of defeat is one we know all too well.
That's where we come into the picture! Whether you haven't shopped for jeans in a while, or you're looking to explore a new brand, we have the ultimate guide to figuring out your size in CJLA denim! 
If you're ready to say goodbye to the hassle and stress of online denim shopping then keep reading! We've got a simple guide that will help you find the perfect fit EVERY TIME!
 
Method 1: Measuring with A Pair that Already Fits
If you already have a pair of jeans that fit you great, you can measure those to find your perfect size! We recommend using a soft tape measure because it's flexible! You can find inexpensive soft measuring tapes at any local arts & crafts or retail store. 
Waist: To find the waist measurements of your jeans, lay your denim on a flat surface and measure across the top seam. Make sure that the front button is fastened or fully zipped before taking your measurement. When you get your measurement, double the number to get your pants' waist measurement.
Hips: Measure your jeans at the hip, or the widest part of the denim (normally located about 2-3 inches above the crotch seam). When you find that number, double it for your hip size.
Inseam: To find the inseam measurement, measure the inner seam from the crotch area down to the ankle seam.

 

Rise: To find the rise of your jeans, measure from the front crotch seam up to the waist of the jeans! Rises will vary between different brands and jeans, but the standard rise measurements are:
Low Rise: between 7-8 inches
Mid Rise: between 8-9 inches
High Rise: between 9-10 inches
Ultra High Rise: 10+ inches
 Method 2: Taking Body Measurements
If you need a new pair of denim, or you aren't sure what will fit you, you can also take your own body measurements! To get the most accurate measurements, make sure you aren't measuring over clothing. Also, make sure you aren't measuring too tightly! You want your jeans to be comfortable and not too stiff.
Measure your waistline: Your natural waistline is the crease in your side when you bend to the side, but you can measure higher up the waist or lower, depending on your preference of rise.

 

Measure your hips: You can measure the widest part of your hips to make sure that your jeans will fit comfortably as you move around.

 

Measure your inseam length: The inseam length can be found by measuring the highest point of your inner leg down to your ankle. This is to make sure that your jeans aren't too long or too short.

 
 You can reference the chart below to see where on your body your waist, hips, and inseam, should be measured! 
Once you've collected your measurements from either method, you are ready to shop for denim! You can ask for a jean sizing chart to compare your measurements with the size ranges that the brand offers. Don't be too intimidated by all the differing sizes and shapes, just let your measurements guide you! Sizes will vary between brands, but it is your comfort that matters most, not the number. 
If you find that the inseam is too long, you can totally trim your denim! You can watch our easy tutorial on how to do so below! 
Click Here to Watch Our Denim Cutting Tutorial 
Still Not Sure?
If you've collected your measurements, looked at the size chart, and still feel unsure, you can always ask for more help! Here at CJLA, we have personal stylists at the ready with a quick email or message! We are always here to help compare your measurements and provide you with options. We want you to love the denim you wear, and live in it too! 
---